Robert Rehammar and other co-founders of SCALINQ were selected to IVA's Top 100 List of research projects with high potential for business benefits and societal impact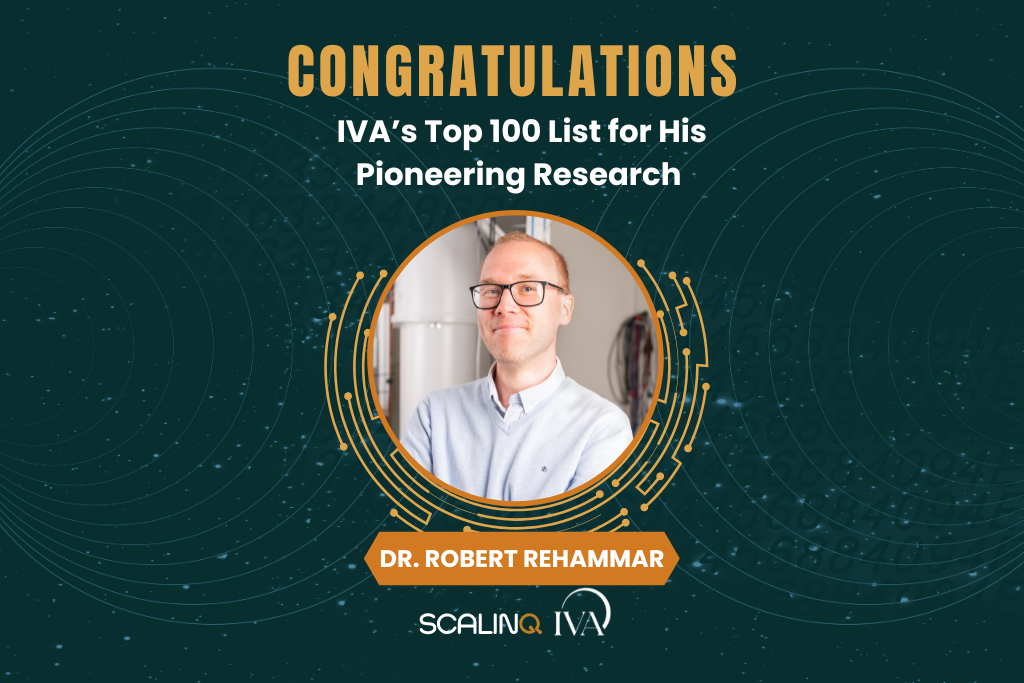 Dr. Robert Rehammar, researcher on Quantum Information Science in the Department of Microtechnology and Nanoscience at Chalmers University was selected by The Royal Swedish Academy of Engineering Sciences (IVA) this year on their list of top 100 research projects with the biggest potential to benefit society through commercialization, business development, or social impact.
This recognition is a testament to Dr. Rehammar's groundbreaking research and contributions to the field, particularly in the areas of nanotechnology, photonics, and quantum computing. Our co-founders and fellow Chalmers researchers Sandoko Kosen and Giovanna Tancredi also contributed to this research.
The research was funded by WACQT (Wallenberg Center For Quantum Technology) which aims to expedite the progression of quantum technology, with a particular focus on quantum computing. The same awarded research was an important part of the technological foundation of SCALINQ.
Quantum systems are intricate and sensitive, necessitating advanced control and management. Dr. Rehammar's project aims to address two critical challenges for quantum technology to become useful in solving societal challenges such as pharmaceutical development, encryption, and logistics. These challenges include optimizing the signal transmission path to the quantum processor as well as enhancing the signal quality. By tackling these issues, quantum technology can evolve from being merely fascinating physical systems to becoming a practical solution for the problems of today and tomorrow
When asked, Dr. Rehammar told us that he is " honored to be on the IVA 100 list, I hope this will help us continue our research in accelerating quantum computing to become a tool to address some of all the challenges our society is facing in the near future.".
Being included in IVA's Top 100 List is a remarkable accomplishment for Dr. Robert Rehammar, highlighting his noteworthy contributions to the industry. With his ongoing efforts in these fields, it is likely that he will continue to make significant breakthroughs and drive innovation for many years to come.

We at SCALINQ are very proud of this award. Congratulations to Robert Rehammar, along with Giovanna Tancredi and Sandoko Kosen who made it possible by contributing to the research.
Read more about the project and the list here: https://www.iva.se/det-iva-gor/utmarkelser/ivas-100-lista/kvantteknologi-for-att-losa-dagens-och-framtidens-utmaningar/