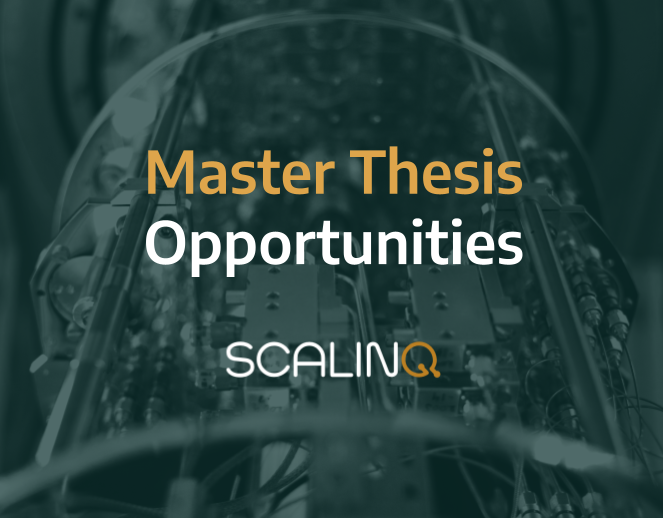 Quantum computers have the potential to reshape our lives for the better and disrupt industries in ways we can't imagine—but we are not there yet! There are still several engineering challenges that need to be solved. SCALINQ is on a mission to help accelerate the development of quantum computers by supplying the industry with the needed supporting hardware technologies. Our focus and expertise are within microwave engineering, focusing on packaging solutions and related components for quantum computers.
Thesis topics
We are looking for students in a range of disciplines to write their master thesis with us. Backgrounds we are looking for include:
Electrical Engineering
Physics
Mechanical Engineering
Industrial Engineering
Business and Finance
We can adapt the project based on your area of interest. Some examples of thesis themes are:
Technology:
Microwave component design
PCB design
Quantum computing development
Business:
The rapidly growing quantum computing market
Business models and strategies in an emerging market
Quantum computing and geopolitics
About the job & the team
Diversity and inclusion sit at the heart of SCALINQ. Our biggest strength is the people that define our company. Everyone contributes in their own unique ways and with their particular skill sets. We have successfully combined research-based competencies with business and engineering to create commercially viable solutions. The team is mainly located at our head office in Gothenburg, and we have a presence in Chicago, USA. You will be assigned to a team member with expertise in the field & you will have access to facilities if necessary.
What we offer
We have a multicultural environment that is filled with skilled and creative colleagues and encourages people to make their ideas happen. At SCALINQ, you can have an impact like nowhere else. We all help each other to build new skills and best practices through the diversity of our backgrounds and perspectives—while having a lot of fun in the process. Our culture is highly rooted in responsibility, inclusiveness, and diversity. We are a team of ambitious and energetic individuals, and we are in it for the long haul! We value a healthy work-life balance and are all about celebrating small and large successes. Sounds like fun? Then we'd love to get to know you!
Thesis Level: Master
Language: English
Location: Remote or on-site, depending on scope
Starting date: Q1 2023
Last application date: 2022-12-12
How to apply:
Apply by sending your CVs to careers@scalinq.com and make sure to mention what area(s) you are interested in.
SCALINQ is a spin-off from Chalmers University of Technology and its pioneering research initiative focusing on developing a full stack, large-scale quantum computer. SCALINQ currently offers a product line of sample holders, LINQER. Sample holders sit the closest to the quantum processor unit (QPU) and are vital for its performance. In our research, we are already developing the next generation of LINQER as well as multiple other needed solutions for facilitating the upscaling of Quantum Computers.